Download GEDCOM
Jump to navigation
Jump to search
Download
Selecting download from the menu will bring up the following window for you to select options from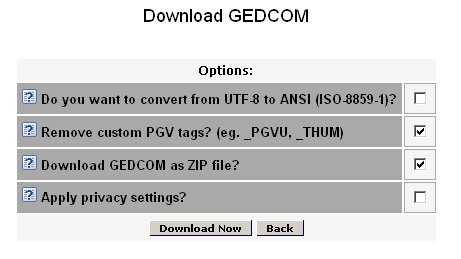 Convert from UTF-8 to ANSI
For optimal display on the Internet, PhpGedView uses the UTF-8 character set. Some programs, Family Tree Maker for example, do not support importing GEDCOM files encoded in UTF-8. Checking this box will convert the file from UTF-8 to ANSI (ISO-8859-1).
The format you need depends on the program you use to work with your downloaded GEDCOM file. If you aren't sure, consult the documentation of that program.
Note that for special characters to remain unchanged, you will need to keep the file in UTF-8 and convert it to your program's method for handling these special characters by some other means. Consult your program's manufacturer or author.
Checking this option will remove any custom tags that may have been added to the records by PhpGedView.
Custom tags used by PhpGedView include the _PGVU tag which identifies the user who changed a record online and the _THUM tag which tells PhpGedView that the image should be used as a thumbnail.
Custom tags may cause errors when importing the downloaded GEDCOM to another genealogy application.
Download GEDCOM as ZIP file
When you check this option, a copy of the GEDCOM file will be compressed into ZIP format before the download begins. This will reduce its size considerably, but you will need to use a compatible Unzip program (WinZIP, for example) to decompress the transmitted GEDCOM file before you can use it.
This is a useful option for downloading large GEDCOM files. There is a risk that the download time for the uncompressed file may exceed the maximum allowed execution time, resulting in incompletely downloaded files. The ZIP option should reduce the download time by 75%.
Apply privacy settings
| | |
| --- | --- |
| | Click on Edit and then Put the Privacy Text here and finally save the page. |


After you then click on you will then be presented with the option to save the file. This will vary depending upon the browser that you are using. An example from Firefox is shown.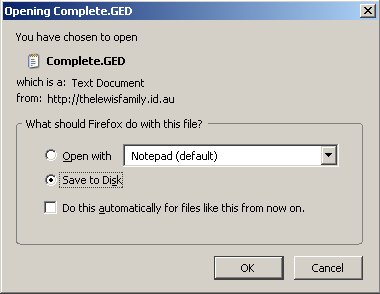 At the completion of the process you will be returned to the Manage GEDCOMs and edit Privacy menu.