Welcome Page
Jump to navigation
Jump to search
The PhpGedView Welcome Page is the main index page seen by a user when visiting a PhpGedView powered web site. The page contains a series of icons for access to PhpGedView Charts, Lists, Anniversary Calendar, Reports.

The main part of the page can be customised to display any combination of several types of configurable/customisable blocks.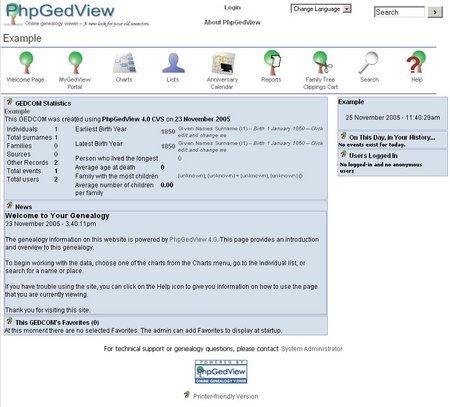 Welcome Page
On PhpGedView powered sites hosting more than one GEDCOM file, a different Welcome Page can be configured for each. See the blocks page for a list of available blocks.
Header Area
The header is shown at the top of every page. The header contains some useful links that you can use throughout the site.
Since this site can have a different look depending on the selected theme, headers can be affected and links may vary.
The links that you might find are:
Search Box
Language Selector
User Links
Favorites
Change Theme
Search Box
This Search box is small but powerful. You can have PhpGedView search almost anything for you. When you click the > or Search button, you will be linked to the Search page to see the results of your search. You will find extensive help about searching options on the Search page.
Language Selector
One of the most important features of PhpGedView is that multiple languages are supported.
The language in which PhpGedView displays all pages is determined automatically according to the Preferred Language setting of the browser. However, the site administrator may have limited the availability of certain languages.
Depending on site configuration, you may be able to change the language of PhpGedView by selecting a more suitable language from a drop-down list or by clicking on a flag icon. If you are a registered user, you can configure PhpGedView to switch to your preferred language after you login, regardless of what your browser is set to.
User Links
The User Links is a small block with useful links that can be found in the same place on every page. The location of these links varies according to the theme currently in effect.
When not logged in, you will only see the Login link. After you have logged in, you will see:
Logged in as (your user name). Clicking that link will take you to your Account page.
Click Log out to Log out.
If you have admin rights, you will also see Admin. Clicking this link will take you directly to the main Administration page.
Favorites
The Favorites drop-down list shows the favorites that you have selected on your personalized Portal page. It also shows the favorites that the site administrator has selected for the currently active GEDCOM. Clicking on one of the favorites entries will take you directly to the Individual Information page of that person.
More help about adding Favorites is available in your personalized Portal page.
Change Theme
When enabled by the site administrator, the Change Theme drop-down list shows you a list of the themes that you can use to view the site.
You can change the appearance of the site by selecting a theme from the drop-down list. If you are logged in, it will also change your user theme to the one that you have chosen so that your next login will automatically select that same theme.
Menus
The page headers have drop-down menus associated with each menu icon.
When you move your mouse pointer over an icon a sub-menu will appear, if one exists. When you click on an icon you will be taken to the first item in the sub-menu.
The following menu icons are usually available:
Welcome Page
MyGedView Portal
Charts
Lists
Anniversary Calendar
Family Tree Clippings Cart
Search
Help
WELCOME PAGE MENU
All of this site's available genealogical databases are listed in this menu. Each database has its own customized Welcome page, like this one. If there is only one database at this site, there is no sub-menu under the Welcome Page icon.
MYGEDVIEW PORTAL MENU
If you are logged in, this menu can include the following items:
MyGedView Portal - This takes you to your own customizable Starting page.
My Account - You can edit your personal data here.
My Pedigree - If you have selected a Root person for this GEDCOM, this will take you to the Pedigree chart for that person.
My Individual Record - This link will take you to your Individual Information page, where all genealogical data about yourself and your family is displayed.
CHARTS MENU
The available charts are:
Pedigree Tree - This will link you to the Pedigree chart of this GEDCOM file. The pedigree will start with the person configured by the administrator. When you are logged in the starting person can be whoever you have configured in your Account preferences.
Descendancy Chart - The Descendancy chart is essentially a Pedigree Tree in reverse order. This comparison is not quite correct, but while the Pedigree chart shows you all the ancestors of a starting person, the Descendancy chart shows you all the descendants of a starting person.
Timeline Chart - Here you view the events of a person along a time line. It's interesting to compare the events of two or more persons along the same time line.
Relationship Chart - Here you can check the relation of a person to yourself or to another person.
Ancestry Chart - This chart is very similar to the Pedigree Tree, but with more details and alternate Chart style displays.
Circle Diagram - This chart is very similar to the Pedigree Tree, but in a more graphical way.
LISTS MENU
The following lists are available:
Individual List - Browse alphabetical lists of individuals in this GEDCOM.
Family List - Browse alphabetical lists of families in this GEDCOM.
Source List - This item returns a list of all the sources used in the GEDCOM.
Place Hierarchy - Here you can look for people by Place. A two-column list will be returned. Individuals are listed on the left, families on the right.
MultiMedia List - You see this menu item only if enabled by the site admin. This will display links to all multimedia files in this GEDCOM.
ANNIVERSARY CALENDAR MENU
The Anniversary Calendar displays the events in a GEDCOM for a given date, month, or year.
View Day - take you to the Anniversary Calendar to display a list of all the events for the current day
View Month - take you to the Anniversary Calendar to display a list of all the events for the current month
View Year - take you to the Anniversary Calendar to display a list of all the events for the current year.
FAMILY TREE CLIPPINGS CART MENU
You will see this item in the menu bar only when the administrator has enabled this feature.
The Clippings Cart allows you to store information about individuals, families, and sources in a temporary file that you can later download in GEDCOM 5.5.1 format.
SEARCH MENU
The Search page is a more powerful version of the Search box you may find in each page header.
HELP MENU
Of course, it would be ideal to create a program so simple and easy to use that it doesn't need any explanation at all; it should be as simple as reading a book.
Although PhpGedView is very complicated, you should not notice that as you use it; almost everything can be used without explanation. But, since we may have a lot of visitors and users who are not very experienced with the use of a computer or with the Internet, we offer you some help at certain places.

You will find the following items in the Help menu:
Help with this Page
For all pages there is a general "Page Help" available. You can click this item in the menu to get "Page Help", where you will be informed about the items on that very page.
Page Help is often brief. If you need more help or information about a certain item on the page than Page Help provides you can use the "Contextual Help" feature.
Help Contents
When you click this menu item, you will get a Help page that displays an index of the major Help topics. The amount of Help information available will be increased as time permits.
FAQ List
The FAQ (Frequently Asked Questions) page can contain an overview or a list of questions and answers on the use of this genealogy site.
The use to which the FAQ page is put is entirely up to the site administrator. The site administrator controls the content of each item and also the order in which the items are shown on the page.
Search Help Text
You can search PhpGedView's Help system. The Search Help Text feature gives you a high degree of control over the way the search functions; you should be able to find what you are looking for easily.
Hide / Show Contextual Help
This last menu item could be the most useful for you. Clicking this link will either switch on or off the "Contextual Help".
With Contextual Help switched on, you may find a Question Mark or similar icon beside some links, drop-down boxes, or buttons. When you click this icon, a Help screen will pop up. This Help screen contains information about that object.
Of course, when you click "Hide Contextual Help", all the Question Marks or icons will disappear until you click "Show...." again.
Body
The body of the page can be modified with Customize_this_GEDCOM_Welcome_page.
General Information
Your Screen
PhpGedView is designed for a screen size of 1024x768 pixels. This should be the minimum size to have everything displayed properly.
If you set the size to a lower value (for example 800x600), you may need to do horizontal scrolling on some pages.
Printing
Clicking the Printer-friendly Version link will remove the items that don't look good on a printed page (menus, input boxes, extra links, the question marks for the contextual help, etc.)
On the Printer-friendly version of the page, you will get a Print link at the bottom of the page. Just click it and your printer dialog will pop up. After printing, just click the Back link and the screen will be rebuilt normally.
Note: Although the "Printer-friendly version" removes many links from the displayed page, the remaining links are still clickable.
Definitions
Here are some explanations of terms used in this Help text:
GEDCOM
Dates
PDF file format
PhpGedView
Portal
Theme
GEDCOM File
A quote from the Introduction to the GEDCOM 5.5.1 Standard: GEDCOM was developed by the Family History Department of The Church of Jesus Christ of Latter-day Saints (LDS Church) to provide a flexible, uniform format for exchanging computerized genealogical data. GEDCOM is an acronym for GEnealogical Data Communication. Its purpose is to foster the sharing of genealogical information and the development of a wide range of inter-operable software products to assist genealogists, historians, and other researchers.
A copy of the GEDCOM 5.5.1 draft Standard, to which PhpGedView adheres, can be downloaded in PDF format here: GEDCOM 5.5.1 Standard This Standard is only available in English.
The GEDCOM file contains all the information about the family. All facts, dates, events, etc. are stored here. GEDCOM files have to follow strict rules because they must be exchangeable between many programs, independent of platforms or operating systems.
Dates In A GEDCOM File
Although the date field allows for free-form entry (meaning you can type in whatever you want), there are some rules about how dates should be entered according to the GEDCOM 5.5.1 standard.
A full date is entered in the form DD MMM YYYY. For example, 01 Mar 1801 or 14 Dec 1950.
If you are missing a part of the date, you can omit that part. E.g. Mar 1801 or 14 Dec.
If you are not sure or the date is not confirmed, you could enter abt Mar 1801 (abt = about), bef 20 Dec 1950 (bef = before), aft 1949 (aft = after)
Be sure to enter dates and abbreviations in English, because then the GEDCOM file is exchangeable and PhpGedView can translate all dates and abbreviations properly into the currently active language. Furthermore, PhpGedView does calculations using these dates. If improper dates are entered into date fields, PhpGedView will not be able to calculate properly.
You can click on the Calendar icon for help selecting a date.
PDF File Format
The PhpGedView Reporting Engine produces downloadable reports in Adobe® PDF format. The GEDCOM 5.5.1 Standard specification, mentioned elsewhere in this Help file, is also downloadable as a PDF file. PDF is an acronym for Portable Document Format.
PDF files are not viewable or printable by the standard software on your PC. If you already have Acrobat Reader installed (it's often packaged with other softwares), you do not need to replace or upgrade it to deal with report files produced by PhpGedView.
Acrobat Reader, the viewing and printing program for these files, is available free of charge from Adobe Systems Inc. The free Adobe® Acrobat Reader can be downloaded from the Adobe Systems Inc. web site. You may find copies of "Acrobat Reader" available for download from other Internet sites, but we strongly advise you to trust only the Adobe Systems Inc. site.
Acrobat Reader is available for many different systems, including Microsoft® Windows and Apple® Macintosh, in many languages other than English. If you have a Windows 95 system, be sure to download Acrobat Reader version 5.0.5. Versions more recent than this will not install correctly on Windows 95 systems.
Download Adobe Reader here
phpGedView
PhpGedView (or PGV) does not just put static pages on the Web; it is dynamic and can be customized in many ways.
PhpGedView was created by John Finlay to view GEDCOM files online. John started developing the program on his own. An international team of developers and translators has since joined him and is working to improve the program. Among the more significant features that have been added or improved in the program are its extensive support of languages other than English, and the ability to add and edit events online.
Portal
This site's Portal is like the lobby of a restaurant or a public library. It is the place where you enter, but you can also find important information like explanations, menus etc.
Themes
This site can have different "appearances", called Themes.
The site administrator chooses a default Theme, which everybody who enters this site will initially see. When the administrator has enabled this feature, all users can select their own Themes. PhpGedView remembers the last selected Theme for each logged-in user, so that that user will automatically see that Theme the next time he logs in. Themes can be used as a way to distinguish between different databases on the same site. Each database can have a different default Theme.