Send message to users
From PGVWiki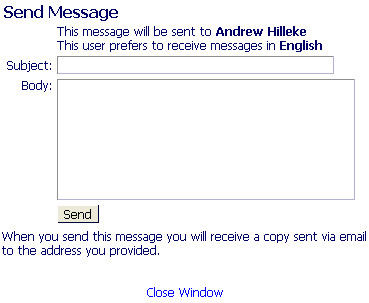 In several places in PGV you will be provided with an option to send a message. As a user, you can send a message to another user (you can select the receipient in the MyGedView portal), or to one of system Administrators. As an Administrator you can send a message to a single users as well, and also a group message to:
All users
Users who have never logged in
Users who have not logged in for 6 months
In each case you will be presented with a screen like the one to the right. If you selected a user, the user name and preferred language will be filled in for you. Type the subject and the message, and press Send. The message will be sent to the receipient external email address, stored in his mailbox in PGV, or both, depending on the setting of the mail message parameters. A copy of the message wil always be sent to you.