Adding a Source
Jump to navigation
Jump to search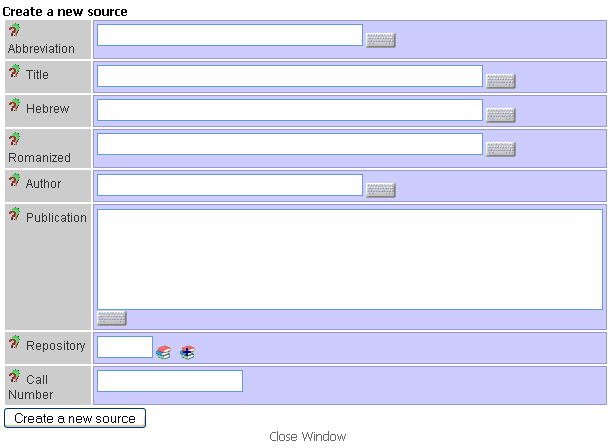 A source is something you can use to help distinguish where certain data came from, it is also required if you are planning on entering any data into the census forms. To add a source click the

"Add an Unlinked Source" icon, on the "Determine Possible Sources" tab of the Research Assistant.
The same form is used in all other places where you can add sources - in the "Sources" tab for individual or when adding / editing any event, fact, media etc.
Indicate if you want an abbreviation associated with your source.
Enter a descriptive title, such as "1880 US Census Forms."
If needed you can enter the title in Hebrew or Romanized formats in the corresponding fields.
Indicate the author (if any).
You can also enter what publication the information came from in the publication field or what repository the information came from and a call number (if there is one) in the corresponding fields.
URLs can be added to a source as clickable links but you must do this by editing the raw GEDCOM record. Adding 1 WWW [url] to the record will display as a link, and adding it as 2 WWW [url] under 1 TITL will display it in the Title block under the title text. In 4.1.6, PGV will not make a link out of a URL in a source unless it is a WWW line.
A source is saved in a GEDCOM file as a SOURCE RECORD.
See also Proper use of sources.